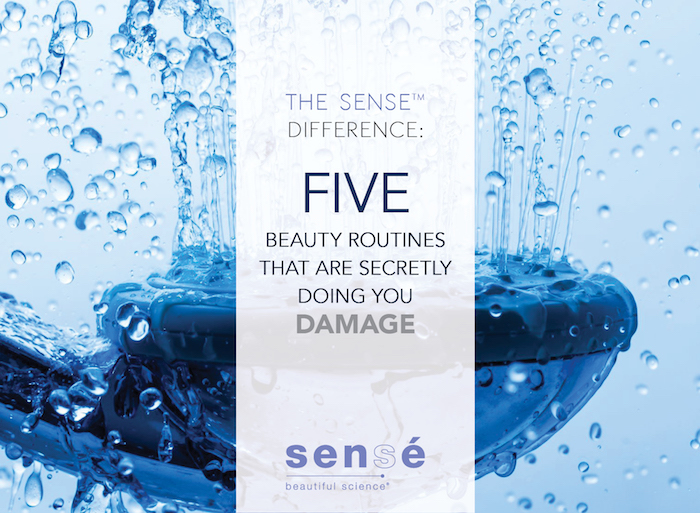 Five beauty routines that are secretly doing you damage
If you think you know everything there is to know about beauty and skin care then think again! When it comes to skin care, the smallest little thing can make a world of difference. Since you do it almost every day, your beauty routine is just that – a routine. But there are some bad habits that you may not have even realized have crept into that routine. Take a look at the below demanding routines we've highlighted and be sure you're not making these common mistakes every day.
1. Over-exfoliating
Over–exfoliating is one of the most common problems associated with beauty care. We exfoliate to cleanse our skin from any dead skin cells in order to get a more firm, smoother look. However by removing too many of those cells from the epidermis, the top layer of our skin, we can actually be reducing our skin's vitality and making it more susceptible to damage from UV light. In fact, over-exfoliation can trigger an inflammatory response, resulting in a compromised lipid barrier that can't function effectively, hyper-sensitive skin, and can also contribute to premature ageing.
Some signs of over-exfoliated skin include increased sensitivity, overly tight skin, patchy areas of dryness, noticeable dehydration, inflamed acne, and skin irritation in the form of redness and itchiness. For your skin to repair itself, skin experts mostly suggest to use a cleanser and toner, accompanied by a protective moisturiser to initiate the recovery process. This could be in the form of USANA's Gentle Daily Cleanser, Hydrating Toner, or Daytime Protective Emulsion, w/ SPF 15. Protecting your skin from sun damage is a must so applying sunscreen should be made a habit. Also, to prevent over-exfoliating in the first-place, gently exfoliate your skin (as opposed to rubbing vigorously) and use more natural non-abrasive exfoliants such as USANA's Nutritious Crème Masque.
2. Wearing SPF+ foundation is not enough (you need SPF skin care first)
Yes, a lot of us use SPF+ foundation but does it do its intended job properly? For full protection from sunlight, you should be applying around a teaspoon of foundation on your face and neck. Unfortunately most people only use pea-size portions only on the face not the neck as well, and they tend to apply this foundation unevenly which ultimately means that they succumb to uneven sun protection. On top of that, because of the powder composition of foundation, damaging sunlight also tends to find its way to your skin between the millions of small particles.
Applying a reasonable amount of broad spectrum SPF+ moisturizer to both your face and neck before you apply makeup can solve these problems. If this makes your skin appear oily then try applying a mattifying primer before your foundation. Remember, around 90% of skin damage is attributed by sun damage so protecting your face from UV rays can keep your skin looking younger. Try USANA's Daytime Protective Emulsion, w/ SPF 15 which not only moisturizes your skin but gives it adequate protection from sun damage.
3. Leaving your makeup on when you go to bed
There is no shame in admitting it — we're all guilty of having slept in our makeup once or twice. It could've been brought on by an exhausting work week or a big night out, or maybe even as a result of pure laziness. Regardless of the reason, here is the bad news. Sleeping with makeup on a regular basis can damage your skin. Like the rest of our body, our skin functions according to our circadian rhythm. This means that our skin renews itself at night time when we sleep and when you wear makeup that renewal process is hindered, causing damage to the skin. If you fall into this pit even with makeup remover wipes on your bedside table, it might be beneficial to apply a night cream that will help your skin repair itself on the nights after you sleep with your makeup on. USANA's Night Renewal Crème helps hydrate and restore your skin when you sleep and is the perfect addition to your beauty regime.
4. Are long hot showers actually causing you harm?
As pleasant as frequent long hot showers sound, they are unfortunately terrible for your skin. Hot water strips away the naturally defensive outer layer of skin, leaving it dry, irritated and scaly. If your skin turns red and itchy in the shower, it's your queue to get out. Logically speaking, you would never wash your face in the sink with hot water so then why do it in the shower? No matter how much hydrating body wash you use, you'll never be able to return your skin to a healthy balance. Try USANA's Hydrating Toner if you want to help your skin restore its natural pH and accompany this with our Day and night Crèmes to help replenish your skin health.
5. Getting hair products on your face
This happens to the best of us. If by some unfortunate chance you get hair spray on your face, because it contains lacquers and alcohol it will dry, irritate and dehydrate your skin. As for shampoo, it usually contains surfactants that strip the excess oils and dirt from your hair— definitely not suitable for washing your delicate face. Also, body lotion should NEVER be applied to your face as the fragrances they contain might irritate your facial skin. USANA's Gentle Daily Cleanser gently washes away dirt and impurities from your skin without drying it out, leaving it moist and supple.