Details


Pack Includes: Vita Antioxidant and Core Minerals

Health Basics
Supplies carefully balanced levels of high-quality vitamins and antioxidants and a balanced range of highly absorbable essential minerals and trace minerals

Designed to provide an essential foundation of optimal nourishment plus powerful antioxidant protection and mitochondrial renewal support for the health and longevity of your cells*

Formulated with patent-pending USANA InCelligence Technology™ to unlock cell-communication codes with proprietary nutrient blends that activate your cells' natural ability to protect and renew themselves*

The USANA Difference
USANA CellSentials™ Pack contains a 28-day supply of both Core Minerals and Vita-Antioxidant supplements. This pack is more than just a multivitamin. It is a triple-action cellular nutritional system formulated to nourish, protect, and renew optimal cellular health. A must-have for your nutrition foundation, the CellSentials provides a broad range of essential vitamins, minerals, and dietary antioxidants. Plus the unique InCelligence Complex in Vita-Antioxidant also supports the production of your cells' innately powerful endogenous antioxidants and the activation of mitophagy, your body's natural process for removing and recycling damaged mitochondria from the cell to help renew efficient cellular energy production.*

Core Minerals
Vita-Antioxidant

USANA InCelligence Technology™ unlocks the code for personalized optimal health. This groundbreaking technology taps into your innate cellular intelligence to unleash the incredible possibilities locked inside your cells.

Speaking the Language of Cells

Your cells are smart. They run your body without you even noticing. And they're constantly communicating, working together to help you conquer your daily life. This natural process is called cell signaling.

Our patent-pending InCelligence cell-signaling technology harnesses the power of cellular communication. We've identified a blend of powerful nutrients that speak your cells' language, allowing them to join the conversations your cells are having. And these nutrients can deliver some very important messages to your cells.

What InCelligence Is Telling Your Cells

InCelligence sends messages that activate your cells' natural protective and renewal abilities. Signaling your cells to activate these powerful responses—instead of waiting for outside stimuli—makes your cells more adaptable.*

So InCelligence is like strength training for your cells. This proactive approach helps build cellular resilience and optimize longevity of cellular function. That's how InCelligence empowers your body to meet your unique health needs, unlocking your unparalleled ability to personalize vibrant health from within.*

Protect and Renew

Your cells are amazing. They have incredible power and potential to create optimal health, and a lot of that comes from their ability to protect and renew themselves.

There are so many processes that make up your body's protective and renewal abilities we could talk about them all day. But we wanted to focus on two of the most amazing examples.

The first is all about antioxidants. But not the kind you're used to hearing about.

Our groundbreaking cell-signaling technology promotes antioxidant production inside your cells. Yes, your cells can create their own antioxidants, and they're really awesome. These antioxidants unlock protection up to 100 times more powerful than antioxidants taken in through your diet.*

And don't forget about renewal.

InCelligence's powerful nutrients also communicate with your cells to enhance their natural renewal response. This purification process removes the harmful byproducts of cellular-energy creation, which is key to the health of your cells.*

Welcome to the Age of InCelligence

InCelligence is a dramatic step forward in nutritional science—pushing the frontiers of cellular nutrition and expanding the horizons of personalized health.

But this is just the beginning.

InCelligence is bigger than a single product. Our revolutionary cell-signaling technology has boundless potential. It will allow us to formulate future products to target different health-optimizing processes and help unlock more of the incredible possibilities coded into your cells.*



*These statements have not been evaluated by the Food & Drug Administration. These products are not intended to diagnose, treat, cure, or prevent any disease. †Trademarks are the property of their respective owners.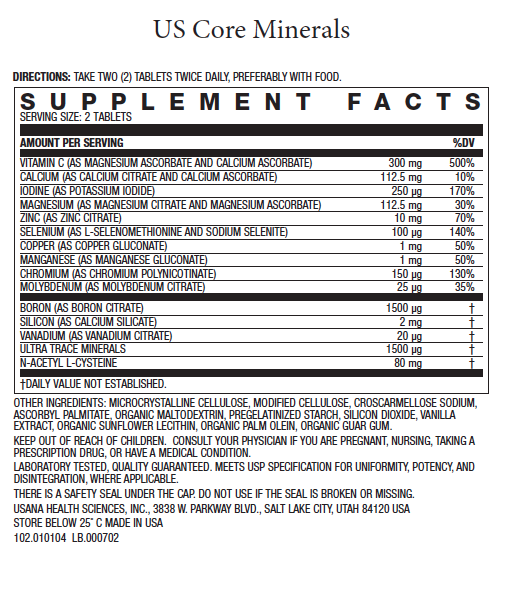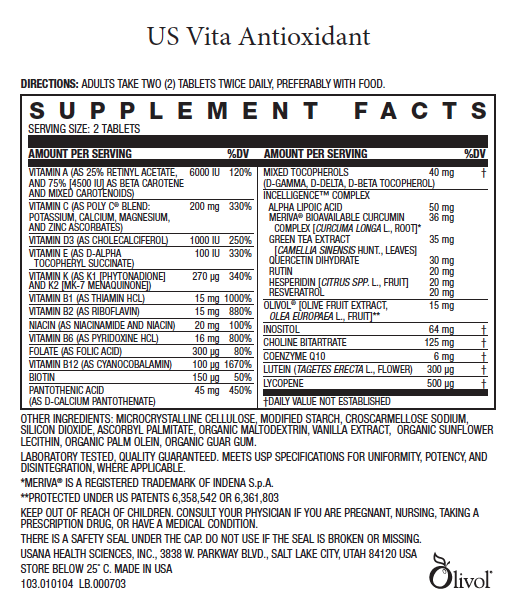 Q: What's the difference between MySmart™Shakes and Nutrimeal™?
A: MySmartShakes are the cleaner, simpler products a growing segment of the population are clamoring for. They don't have any sugar and are packed with six grams of fat—mainly from coconut oil—to provide the beneficial balance of macronutrients to combat today's carbohydrate-heavy diets. MySmartShakes also give you the ability to personalize your shake. You'll have a variety of flavors and proteins to choose from, instead of being stuck with only a few options.

Q: What do the numbers on my shake bags mean?
A: Each part of the MySmartFoods line is numbered to guide you through the process. So making your perfectly personalized MySmartShake is as easy as 1, 2, 3.

1. Choose your protein base—plant, soy, or whey
2. Choose your USANA MySmart™ Flavor Optimizer—dark chocolate, cappuccino, peach mango, banana, orange cream, or stick with the mild vanilla flavor of the base
3. Add in a booster, like USANA MySmart™Shake Protein Plus

Q: Will USANA be adding more flavors in the future?
A: Yes. Over the next few years, we plan to roll out more flavors. Keep checking on The Hub for more exciting MySmartFoods products.

Q: How will these new products affect the RESET™ Kit?
A: We're changing the RESET Kit to MySmart™Start, and it will feature the MySmartFoods line. This means you'll experience more personalization with a program that will help you start living a healthier lifestyle.

Q: Are MySmartFoods low glycemic?
A: We can't talk about MySmartFoods and the glycemic index, but they do have a low-glycemic impact on your body. Here's why:

There simply isn't enough sugar to determine a glycemic-index score experimentally. In other words, they are naturally low glycemic in the same way that nuts or fish are. They contain too few carbohydrates to be tested, and their influence on blood glucose would be insignificant. So, while we can't measure the glycemic index, of course they will help support your low-glycemic diet.

Q What went into the development of these new products?
A: We recognized a desire among consumers for simple, pure products. They want ingredients they can pronounce and easily understand. That means cleaner labels and ingredients that are closer to nature. One thing I was taught was to simply look at the length of an ingredient deck—almost always, shorter is better.

This was also an opportunity to add in more beneficial fats—mainly from coconut oil—to provide a better balance of macronutrients: carbohydrates, protein, and fats. For a long time, the story was that fats were bad. When you dig into the scientific literature, that's just not the case.

Q: So what's going on with the saturated fat in the products? A: Fats are a vital nutrient, especially for our cells. And the type of fats found in coconut oil—which is what we use in these products—has quite a few health benefits. It's been shown to support healthy metabolism, and contribute to satiety. There's also evidence coconut oil supports healthy triglyceride levels and maintains good cholesterol levels already in the normal range.*

Q: How will the shakes and bars benefit my overall diet?
A: That's a great question. We are very good at talking about "essential" micronutrients—the vitamins and minerals that are essential to sustain life. However, we often forget there are "essential" macronutrients as well. MySmartFoods offer both essential and beneficial macronutrients designed to help bring our overall diet back into balance.

Around the world, we are consuming more calories coming mostly from refined sugars, and more specifically, from snacking. The primary goal of these new products is to help restore balance in our diet, and combine them with the USANA® Essentials™ to provide the essential macro- and micro-nutrition our bodies need to thrive.

Q: Will the products make me feel full longer?
A: Besides fat, it is well known and scientifically documented that increased amounts of fiber and protein will also help increase the overall sense of satiety and boost your metabolism. Just two of the many health benefits these macronutrients provide.