Details
Mega Antioxidant without Vitamin K supplies precisely balanced levels of high-quality, highly bioavailable vitamins and antioxidants that work together to protect your health.

Antioxidants - Your Cell's Super heroes
Cell-damaging oxidative stress is caused by free radicals that come from normal cellular metabolism, exposure to pollution and toxins, stress, and poor diet and lifestyle habits. Free radicals attack our cells, gradually chipping away at their integrity, resulting in an eventual decline in health. Antioxidants neutralize the activity of free radicals to protect the integrity of our cells, which impacts every part of our body. Mega Antioxidant provides advanced levels of a wide range of antioxidants:

• Vitamins C and E, along with beta carotene (which naturally converts into vitamin A only as needed, providing the benefits of vitamin A without the risk of toxicity), are each powerful antioxidants that also reinforce the activity of the others.
• Flavonoids and phenolic compounds, which are abundant in fruits and vegetables, not only provide important protection against oxidative stress, they also complement and extend the activities of other antioxidants as well. A unique bioflavonoid complex—including quercetin, rutin, hesperidin, green tea, bilberry, pomegranate, and cinnamon—plus turmeric all work to inhibit the activity of free radicals.*
• Certain polyphenolic antioxidants found in olives are not present in other common dietary sources. They are structurally distinct from the bioflavonoids and other antioxidants found in fruits and vegetables. These antioxidants are found in USANA's patented Olivol® olive-fruit extract.

Essentials Health
Complete, effective combinations of nutrients are needed to provide a foundation for good health. For the best results, Mega Antioxidant should be taken with Chelated mineral. The following are a few examples of how Mega Antioxidant offers broad, balanced nutritional support for every aspect of optimal health.*

Heart Health
• High levels of antioxidants in the blood have been shown to help maintain cardiovascular health.*
• Vitamin E and mixed tocopherols play a critical role in protecting LDL and cell membranes from oxidation, keeping arteries healthy. Vitamin C is also helpful in maintaining healthy veins and arteries by supporting healthy tissue growth and strengthening collagen.*
• The B vitamins, especially riboflavin, folate, and vitamins B6 and B12, are fundamental to the maintenance of healthy levels of the amino acid homocysteine, provided they are healthy to begin with. Homocysteine levels have been linked to heart health.*
• Vitamin B12 is also necessary for the health of red blood cells and DNA, the genetic material in all cells. Those who do not take a supplement containing vitamin B12 are twice as likely to be vitamin B12 deficient as supplement users, regardless of age group. Coenzyme Q10 plays a key role in producing cellular energy, demand for which is especially high in the heart, making this an important nutrient for cardiovascular health. In addition, cellular-energy production requires a full spectrum of B vitamin activities.*
• Vitamin D deficiency has been linked to an increased risk of heart disease.*
• USANA's patented Olivol® helps protect low-density lipoproteins (LDL) from oxidation.*

Vision
• Mixed carotenoids, including beta carotene, lutein, and other antioxidants, help maintain good vision.* Lutein selectively accumulates in tissues in the eye to help protect against damaging UV rays.
• Vitamin C is especially important for the retina, where concentration of this essential nutrient is significantly higher than in the blood.

Immunity
• By helping to maintain the integrity of all cell membranes, along with the digestive system and lungs, beta carotene is important for strong immunity.
• Vitamins B6, B12, and folate are critical for producing immune cells.
• Vitamin E, vitamin D, as well as vitamin C are well known for their immune-cell supporting properties

Bone Health
• Vitamin D helps in the development and maintenance of mineral-rich bones and teeth. Healthy levels of this important nutrient are a key part of minimizing age-related bone loss. It also supports muscle strength.

Respiratory Function
• Lycopene and the combination of vitamin C and bioflavonoids support health maintenance for many organs.

Energy, Nutrient Metabolis
• Several B vitamins are involved in energy metabolism,helping to convert the carbohydrates,fats,and proteins we eat into fuel for our cells.

Detoxification
• Vitamin C helps to conserve glutathione, which is produced in the liver. The natural detoxification process can create a great deal of oxidative stress, especially in the liver. Intracellular glutathione is one of the most important antioxidants for defending cell health, and it acts as a primary detoxification element.
• N-acetyl l-cysteine can also help boost glutathione.
• Choline and inositol help metabolize fats in the liver.

Brain and Nerve Function
• B vitamins are important for brain and nerve support. Folate is especially important for women who may have children. Women who consume healthful diets with adequate folate throughout their childbearing years may reduce their risk of having a child with a birth defect of the brain or spinal cord. Sources of folate include fruits, vegetables, whole grain products, fortified cereals, and dietary supplements.*
• Choline supports transmission of nerve impulses from the brain throughout the central nervous system. It is also important for memory support.

Skin, Hair, Nails
• Antioxidants,such as vitamin E,help defend your cells against the oxidative stress caused by sunlight, pollution, and stress, which can all prematurely age the skin.
• Lycopene, lutein, and beta carotene play a role in supporting healthy, glowing skin.
• Inositol as well as biotin andpantothenic acid are fundamental to growth of healthy skin, hair, and nails.
• Vitamin C is essential for synthesizing collagen, proteins that provide elasticity to our connective tissues (also important for maintenance of muscle, joint, and tendon function).

Why Mega Antioxidant?
Because it is one half of the Essentials—the top-rated supplements in the world—you can trust that mega antioxidant is the best multivitamin and antioxidant supplement you can use to protect your health every day. Formulated by a team of nutritional-science experts using readily bioavailable forms of each nutrient, the usana Essentials surpass virtually every competitor for completeness, potency, and quality. Our own in-house study also revealed that the Essentials provided increased levels of select nutrients over a longer period of time than some competitive products. USANA is proud to be one of only a handful of manufacturers who makes our products in our own state-of-the-art facility, which allows us to oversee the entire production cycle to ensure that our products deliver only the safest, most effective formulas for you and your family.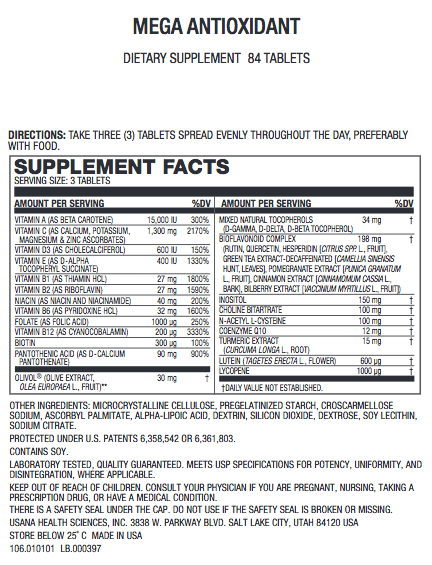 Q: What's the difference between MySmart™Shakes and Nutrimeal™?
A: MySmartShakes are the cleaner, simpler products a growing segment of the population are clamoring for. They don't have any sugar and are packed with six grams of fat—mainly from coconut oil—to provide the beneficial balance of macronutrients to combat today's carbohydrate-heavy diets. MySmartShakes also give you the ability to personalize your shake. You'll have a variety of flavors and proteins to choose from, instead of being stuck with only a few options.

Q: What do the numbers on my shake bags mean?
A: Each part of the MySmartFoods line is numbered to guide you through the process. So making your perfectly personalized MySmartShake is as easy as 1, 2, 3.

1. Choose your protein base—plant, soy, or whey
2. Choose your USANA MySmart™ Flavor Optimizer—dark chocolate, cappuccino, peach mango, banana, orange cream, or stick with the mild vanilla flavor of the base
3. Add in a booster, like USANA MySmart™Shake Protein Plus

Q: Will USANA be adding more flavors in the future?
A: Yes. Over the next few years, we plan to roll out more flavors. Keep checking on The Hub for more exciting MySmartFoods products.

Q: How will these new products affect the RESET™ Kit?
A: We're changing the RESET Kit to MySmart™Start, and it will feature the MySmartFoods line. This means you'll experience more personalization with a program that will help you start living a healthier lifestyle.

Q: Are MySmartFoods low glycemic?
A: We can't talk about MySmartFoods and the glycemic index, but they do have a low-glycemic impact on your body. Here's why:

There simply isn't enough sugar to determine a glycemic-index score experimentally. In other words, they are naturally low glycemic in the same way that nuts or fish are. They contain too few carbohydrates to be tested, and their influence on blood glucose would be insignificant. So, while we can't measure the glycemic index, of course they will help support your low-glycemic diet.

Q What went into the development of these new products?
A: We recognized a desire among consumers for simple, pure products. They want ingredients they can pronounce and easily understand. That means cleaner labels and ingredients that are closer to nature. One thing I was taught was to simply look at the length of an ingredient deck—almost always, shorter is better.

This was also an opportunity to add in more beneficial fats—mainly from coconut oil—to provide a better balance of macronutrients: carbohydrates, protein, and fats. For a long time, the story was that fats were bad. When you dig into the scientific literature, that's just not the case.

Q: So what's going on with the saturated fat in the products? A: Fats are a vital nutrient, especially for our cells. And the type of fats found in coconut oil—which is what we use in these products—has quite a few health benefits. It's been shown to support healthy metabolism, and contribute to satiety. There's also evidence coconut oil supports healthy triglyceride levels and maintains good cholesterol levels already in the normal range.*

Q: How will the shakes and bars benefit my overall diet?
A: That's a great question. We are very good at talking about "essential" micronutrients—the vitamins and minerals that are essential to sustain life. However, we often forget there are "essential" macronutrients as well. MySmartFoods offer both essential and beneficial macronutrients designed to help bring our overall diet back into balance.

Around the world, we are consuming more calories coming mostly from refined sugars, and more specifically, from snacking. The primary goal of these new products is to help restore balance in our diet, and combine them with the USANA® Essentials™ to provide the essential macro- and micro-nutrition our bodies need to thrive.

Q: Will the products make me feel full longer?
A: Besides fat, it is well known and scientifically documented that increased amounts of fiber and protein will also help increase the overall sense of satiety and boost your metabolism. Just two of the many health benefits these macronutrients provide.