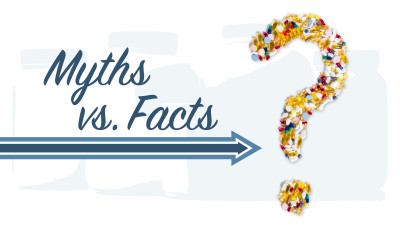 Your best friend in the office swears the microwave is killing all the nutrients in her food.

The big guy at the gym with bulging biceps and a t-shirt that says, "Real Men Lift" insists by his diet consisting of protein, protein, and—you guessed it: more protein—is the only way to get that beach body you've been dreaming about.

Even your goofy neighbor with a bizarre affinity for taxidermy (no judgement) seems to think he's qualified to dish out diet and exercise advice.

When talking about health and wellness, there's no shortage of inaccurate information—particularly when it comes to supplementation.

But with so much coming at you from friends, colleagues, and Internet "experts," how can you separate fact from fiction?

Let's check out some widely accepted supplement myths, cut through the white noise, and then get to the facts.

SUPPLEMENT MYTH #1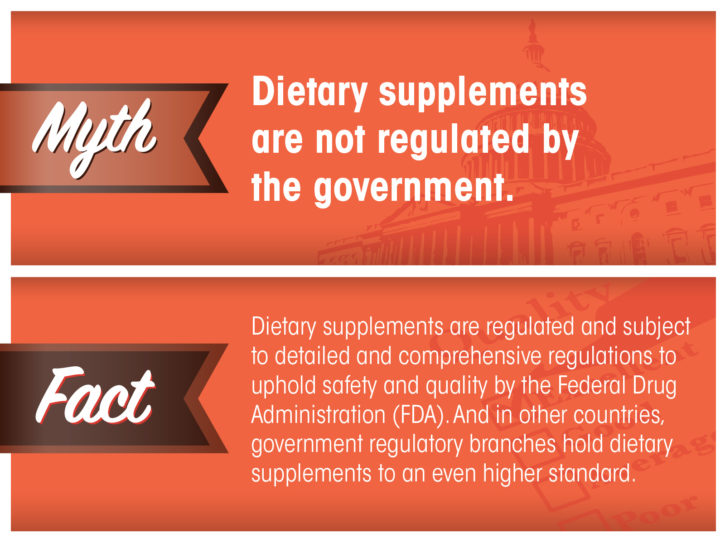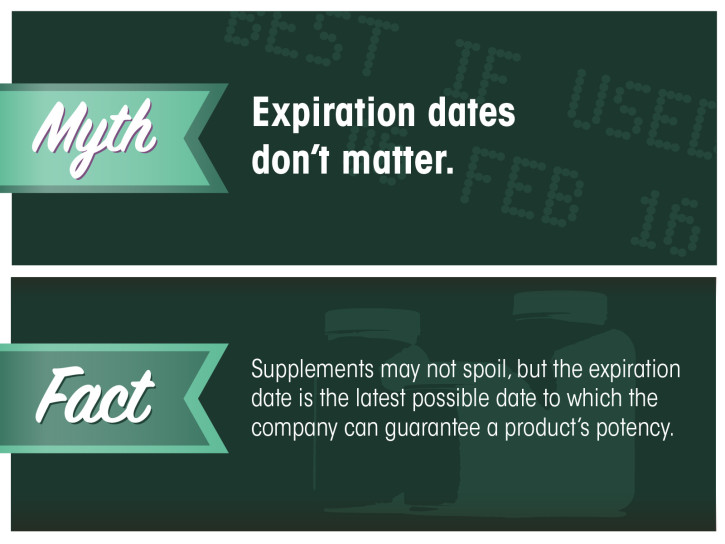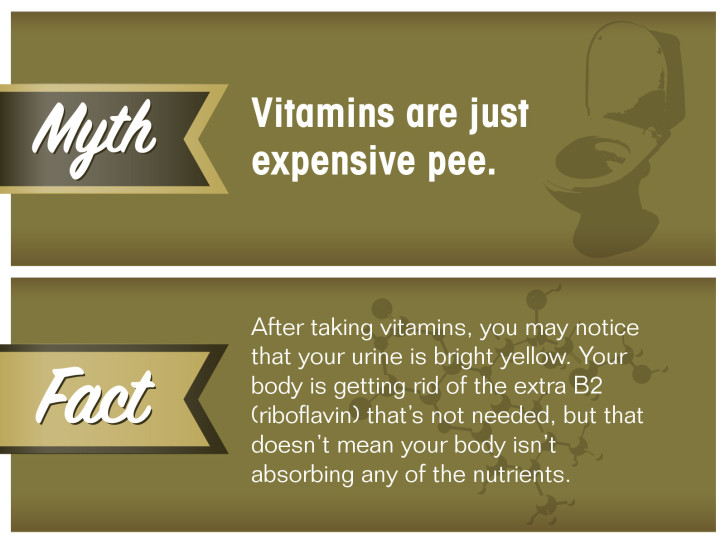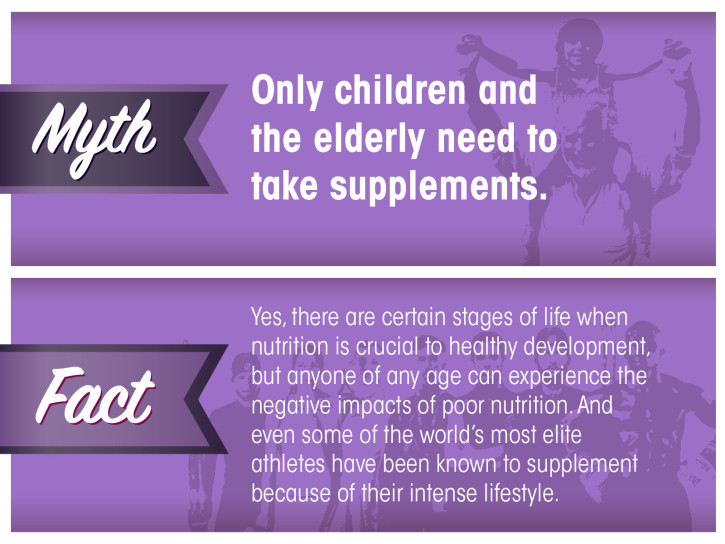 half of all Americans take one or more dietary supplements daily or on occasion.

SUPPLEMENT MYTH #5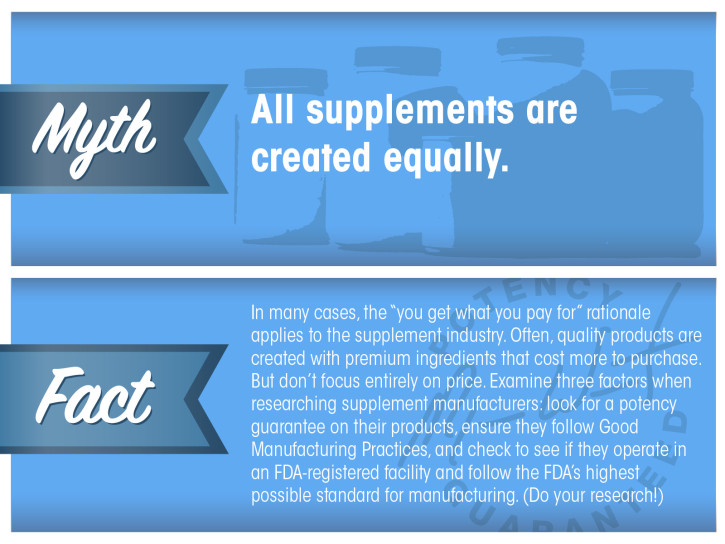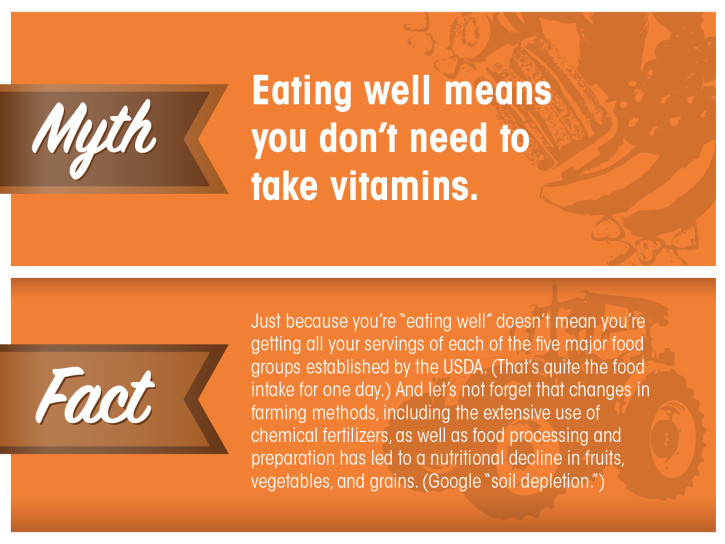 Just because you're "eating well" doesn't mean you're getting all your servings of each of the five major food groups (the ones found on the USDA food pyramid). That would be really hard!

Here's a quick rundown of what you would need to eat every day to meet their dietary guidelines for a well-balanced diet:

Meat, poultry, fish, dry beans, eggs, and nuts group: 2-3 servings
Milk, yogurt, and cheese group: 2-3 servings
Fruit group: 2-4 servings
Vegetable group: 3-5 servings
Bread, cereal, rice, and pasta group: 6-11 servings

I don't know about you, but that is a lot of food to be eating in one day. So I think it's fair to say that even if you're eating a well balanced diet, you're most likely not getting the daily-allotted amount of vitamins and minerals. That's where supplements come in.

An Expert's Perspective:

"Those who believe that you can get all the nourishment, including vitamins and minerals, you need to sustain optimal health throughout life from food alone can be very smug. They have the equivalent of an orthodox religious belief—'food is everything.' They don't have to concern themselves with the fact that the nutritional value of foods their patient eats may be greatly inferior to the listed nutritional values given in food tables."

—William Kaufman, MD
Did you know?
There's new technology being used in vitamins that nourishes your body with the right balance of nutrients to create the ideal environment for optimal cellular health. The technology has the power to tap into your cells' ability to preserve and regenerate. It does this by cleaning up the harmful byproduct of energy creation happening deep inside your cells, giving you healthier, longer-living cells. Pretty cool, right? Why wouldn't you want to use supplements after hearing about that technology?

SUPPLEMENT MYTH #7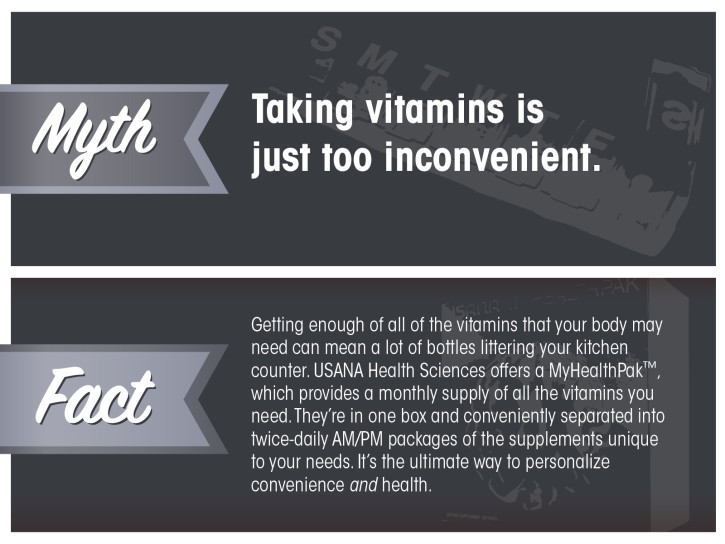 Sure, this statement might be true if your kitchen countertop currently looks like the vitamin aisle of your local supermarket. And that can easily happen because there are hundreds of options to choose from. You want a calcium supplement, vitamin D, fish oil, melatonin, vitamin C, glucose, B12—the list goes on and on.

What are you suppose to do—carry all those bottles around all day, every day? Talk about inconvenient.

But did you know there's a company with a solution?

USANA Health Sciences has developed what is called the True Health Assessment. This revolutionary online tool helps you discover your personal vitamin needs. And once this is determined, they can split your recommended vitamins into convenient AM and PM packs.

Visit their site to create your own personalized MyHealthPak and choose which supplements you want in your 30-day supply. They slap your name on the box and BAM…you're all set.

Doesn't get much more convenient than that.